Bullous Systemic Lupus Erythematosus
Save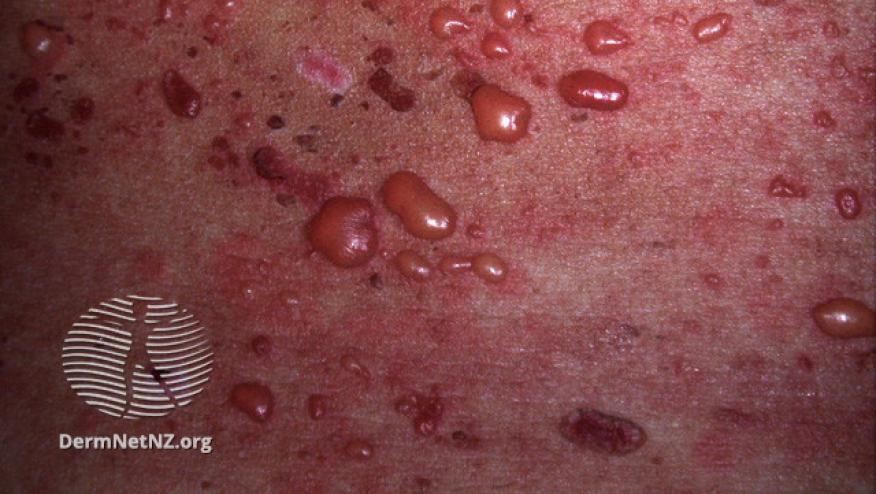 Bullous systemic lupus erythematosus (BSLE) is a rare blistering cutaneous manifestation of systemic lupus erythematosus (SLE).
As goes SLE, bullous disease typically affects women, especially those of African descent.
These acute vesiculobullous eruptions occur in photo-distributed areas, but can be unrelated to sun exposure (e.g., mucous membranes, axillae). The bullae can start as erythematous macules, or inflammatory plaques. When they start as small, grouped vesicles they may be confused with lesions of dermatitis herpetiformis. If larger, they may have tense blisters, similar to bullous pemphigoid.
BSLE is an acute cutanesous LE disorder.  WIth a prevalence of 0.19–0.41%, with a highest incidence in those with African descent in the second to fourth decades of life. But it can present in all ages, races, and genders.
Systemic and internal organ involvement occurs in up to 90% patients - including lupus nephritis (classes III–V), arthritis, and cytopenias; yet serositis and neuropsychiatric involvement are rare.
Treatment of BSLE should include the use of dapsone milder cases w/ less systemic disease. More aggressive cases may require rituximab, other immunosuppressive agents and glucocorticoids.
The key pathogenic insult includes the formation of autoantibodies against type VII collagen, which weaken the basement membrane zone and lead to the formation of subepidermal blisters.
Disclosures
The author has no conflicts of interest to disclose related to this subject
Add new comment