Guselkumab in Psoriatic Arthritis
Save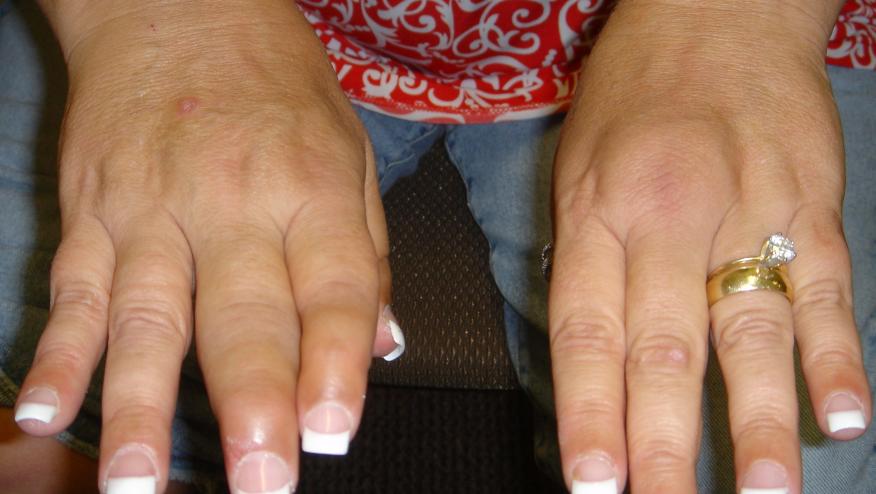 First, a quick recap of how we got here.
Guselkumab, an IL-23p19-subunit inhibitor, was approved for moderate to severe plaque psoriasis in July 2017. With the success of DISCOVER 1 (D1) and DISCOVER 2 (D2) phase III trials, it was later approved for the treatment of psoriatic arthritis (PsA) in the US in July 2020 and in Europe latera that same year. The D1 and D2 trials compared guselkumab vs placebo in patients with active PsA, with the major difference between the two being that only biologic-naïve patients were enrolled in the D2 trial. Today, we discuss three abstracts presented at ACR Convergence 2021 that expand on that work with an additional year of data.
We kick off the updates with Dr. Proton Rahman and Abstract #1803 which details long term safety of guselkumab in PsA over a period of 100 weeks. In D1 and D2, the initial treatment arms consisted of 100mg SQ guselkumab q4 weeks and another group with dosing q8 weeks. The placebo arm received…well…placebo, until week 24 when they were switched to a treatment arm. From week 0 to 24, serious adverse events, infections, cancer, and major cardiovascular events were low and comparable between the placebo and treatment arms. Fortunately, the 2-year data shows guselkumab's safety profile remained stable. Further, this was comparable to that seen in up to 5 years of data from patients receiving guselkumab for moderate to severe plaque psoriasis. Note that there was a slightly higher incidence of ALT and AST elevations in patients on treatment, those on q4 weeks compared to q8 weeks dosing, and those with baseline methotrexate use.
We stay with Dr. Proton Rahman as we go over Abstract #1329, this time turning to often tougher-to-control manifestations of PsA - dactylitis and enthesitis. The D1 and D2 trials evaluated treatment of these manifestations with guselkumab and showed significant improvement compared to placebo. Over half of the patients with dactylitis and almost half of those with enthesitis experienced resolution by week 24, and resolution rate increased further by week 52. Now, the 2-year data shows these results were maintained to week 100. Given the impact on quality of life these manifestations can have, this is great news for our patients.
Finally, we turn to Dr. Philip Mease with Abstract #1330 on guselkumab use and the axial-related endpoints in patients with PsA. These were patients who had axial symptoms and imaging-confirmed sacroiliitis at screening. Using BASDAI, modified BASDAI (which excluded peripheral joint pain), Spinal Pain, and ASDAS, there was significant improvement in scores for patients in the guselkumab group compared to those on placebo. In all 4 measures, the group crossing over from placebo to q4 week guselkumab caught up to the treatment arms. And, once again, the 2-year data is positive, with many patients maintaining these improvements.
Ideally, we want to treat our patients with safe and effective medications, and we want that treatment to keep working. The abstracts above provide encouraging updates on guselkumab for use in our psoriatic arthritis patients.
 
Add new comment