Making You the Expert of You! (Smart Rules for Patients)
Save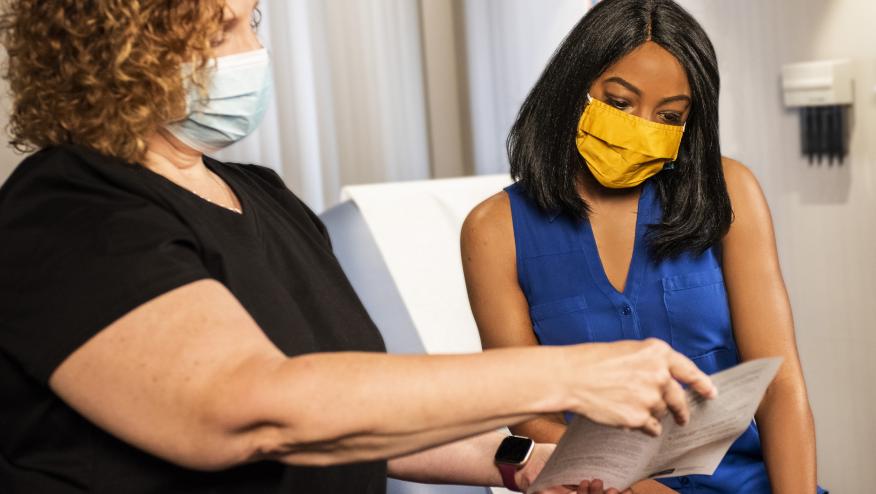 You've scheduled an appointment with your medical provider - how do you make the most of it?
Your diagnosis and care may be simple or complex; short-lived or chronic. Optimal outcomes are best achieved by an effective partnership with a medical provider who can expertly diagnose and help you based on your symptoms, medical history, findings, and facts. Following are tips that help you be the expert of you. Things to do before, during and after the appointment:
ALWAYS carry a list of your medications (name and dose), vitamins and OTC products. You can add a start date, cross out meds you stopped or mark the meds you need to discuss.
Maintain and take with you a list of your medical problems (current and prior), past surgeries, test results, and drug allergies, as well as a list of your current doctors and their phone numbers.
Use your cell phone for pictures (e.g., rashes or joints), and vital information (as noted above).
If you feel poorly, don't cancel/avoid your medical visit – GO to your appointment, we do our best work when you are at your worst!
Let the clinic know if you've been in an accident, hospitalized or are seeing a new specialist for a new medical problem.
Bring a relative or friend to your medical visit to keep notes, remember and reinforce what was said. More "ears" and support will add to your understanding and care.
If you do not speak English fluently, you should ask for a translator or bring someone who can translate for you.
Always tell your doctor what bothers or concerns you most.
Start each clinic visit with your important questions; don't wait till the end as the provider leaves the room.
Let the clinic know if you have any problems that interfere with your coming to clinic or following a medical plan, including money for medication, transportation, food insecurity, housing issues, substance, or physical abuse.
Know your "number" – a number your doctor uses to assess and treat you (for example blood pressure, cholesterol, "sed" rate, or hemoglobin A1c). Such a number may indicate if you've improved, worsened or at risk. You can have your results sent to you or follow them in your electronic chart portal.
Don't be afraid to ask about other treatment options, diet, exercise, lifestyle changes or second opinions that may help you.
Ask about what you should do if you worsen, have a "flare," new problem or complication.
Ask for written instructions or handouts (on meds, tests, next steps) from the clinic staff. (Share these with family or those who will help you with your medical problem)
With a newly prescribed medicine, you should ask: a) how long will it take to work and how long will I need to take this med; b) what is this med supposed to do; c) will this interact with my other meds; d) what side effects should I expect;  and f) do I need lab tests while on this drug?
New medications may be confusing and impossible to spell or say – if you don't understand your medication, please ask the prescriber to explain.
Don't stop a drug without notifying the provider who prescribed that drug (they will know best what you should do). Let the clinic know if you have been (temporarily) unable to take your medicine.
If medication information from the pharmacy/pharmacists worries you, call back to the prescribing provider (before you stop or change your medication) for more information.
Let the clinic know if you choose to NOT follow medical advice or take a prescription and your alternative plan. Not following medical advice may have important or serious consequences – this can be discussed at the next medical visit.
The BEST diagnosis may not be the one you want or expect. Ask why or how a doctor is making a certain diagnosis in you. Let the clinic know if you see other doctors for the same problem, most doctors welcome input from other medical professionals.
The BEST medical diagnoses, advice and referrals come from experts – not from those (non-experts) who wish to help you (i.e., family, friends, church folk, other patients, Google, or other websites).
Even though you may see a specialist, you still need to regularly see a primary care provider to assess and manage other medical problems that may arise.
Develop ways to manage stress and care for yourself in order to improve your quality of life. Examples include exercise/yoga, spending time with supportive family or friends, engaging in hobbies and interests, spending time outdoors, meditation, getting enough sleep, taking breaks and eating well.
As always, your problems, concerns, and questions need to be respected, taken seriously, answered, and dealt with – if not, consider finding a new expert to help you.
Remember, you are not the diagnosis, but you need to manage the diagnosis (with expert guidance).
Many Rheumatology experts contributed to and edited this guidance to help their patients. This includes:
Jack Cush, MD
Martin J. Bergman, MD
Bonnie Bermas, MD
Kathryn Dao, MD
Kenneth Kalunian, MD
Alan J. Kivitz, MD
W. Patrick Knibbe, MD
Joel M. Kremer, MD
David Liew, MD
Steve Lindsey, MD
Bella Mehta, MD
Stephen Paget, MD
Janet Pope, MD
Elliot Rosenstein, MD
Bernard Rubin, MD
Jeffrey A. Sparks, MD
Rachel Tate, MD
Sterling West, MD
Scott Zashin, MD
Disclosures
The author has no conflicts of interest to disclose related to this subject
Add new comment