ProDERM Study: IVIG in Dermatomyositis
Save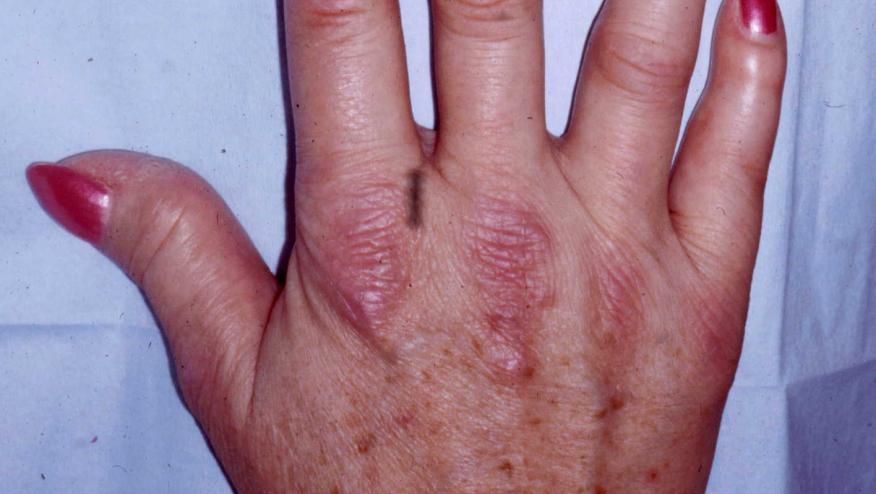 The ProDERM study design and outcomes are previewed in Medicine; and as promised the results were revealed at ACR Convergence in November 2020 showing that IVIg is safe, effective and superior to placebo i(PBO) in patients with dermatomyositis (DM).
This clinical trial was a novel placebo-controlled, blinded, randomized trial in 95 patients with active dermatomyositis (DM).who were randomized 1:1 to received either IVIg (10% Octagam; 2 g/kg q4w) or PBO. If patients were clinically worse at weeks 8 were switched and those  who were not worse at week 16, continued to receive open-label IVIg (receiving 2 g/kg IVIg every 4 weeks).till week 40. 
The primary endpoint was assessed at week 16 using the Total Improvement Score (TIS). The primary efficacy endpoint was defined per 2016 ACR/EULAR Myositis Response Criteria of at least minimal improvement (TIS ≥20] and without deterioration at 2 consecutive visits up to week 16. TIS consists of composite response criteria, combining weighted improvement in 6 core set measures (CSMs), Global Disease Activity (Physician and Patient), manual muscle testing-8 (MMT-8), Health Assessment Questionnaire, extra-muscular disease activity, and muscle enzymes. Adverse events, including infusion reactions and thromboembolic events, were recorded.
The results were presented at ACR2020 (abstract #955) and showed that at week 16, patients on IVIg were significantly superior to placebo, regardless of the level of response.
| | | | |
| --- | --- | --- | --- |
| Response | IVIg | PBO | P Value |
| Minimal Response TIS>20 | 78.7% | 43.8% | 0.0008 |
| Moderate Response TIS>40 | 68.1% | 22.9% | <0.0001 |
| Major Response TIS>60 | 31.9% | 8.3% | 0.0062 |
The most common side effects were headach, fever, and nausea.  Serious adverse events occurred iin 5.8% of IVIg patients and 4.2% of PBO patients. Serious AE included thromboembolic events - 1 pulmonary embolus, 1 combined DVT/PE, and 2 cerebrovascular accidents. 
This study is novel in being the first to showed (in a double blind, randomized trial) the efficacy and safety of IVIg in DM patients.
Disclosures
The author has no conflicts of interest to disclose related to this subject
Rheumatologists' Comments